It's hard to believe that only two years ago, I was still putting the finishing touches on
Letting Go
. Back then, I was the only artist on Reflective Music and the team consisted of three people. The following month, I released the album and did my first solo concert as Ashley Laschelle. A few months later, the squad grew like crazy and my career really went into motion. Since then, I've performed all over Chicago (including two theatrical appearances), I've been featured on a couple of amazing Hip-Hop albums, my network has expanded like crazy, I've grown as a writer/producer/performer, and I've even started working on my next project. But even I wasn't expecting what happened to me this month.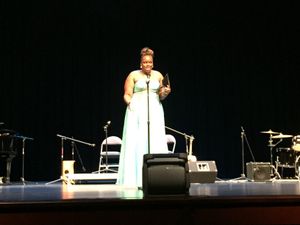 During the Labor Day Weekend, I was blessed and honored to perform at the WomeninCharg3 Awards in Atlanta and win the first WomenInCharg3 R&B Artist Award! I was just thankful to be acknowledged and was totally caught off guard when my name was called. There was amazing talent in the room and I made some awesome connections, including the CEO of
WomeninCharg3
, Satoa Raymond and her beautiful family. The best part of it, though, was I got to share it with some of the most important people to me. Andre and Christian from Reflective Music were with me that weekend, as well as my best friend Marquita Brown. Each of them helped me get ready and were incredibly supportive the whole time. It's amazing to see "Award-Winner" next to my name now. I'm still getting used to it. Lol.
All of this has me ready for the next steps in my career. I have a couple small shows coming up and my team is working on some things for me. I promise I won't keep you guys waiting on new material for too much longer. Thank you so much for your continuous support and for voting for me for the WomeninCharg3 Awards. I am so excited about the future and all the things God has in store for me. You guys stay safe, stay in tune, and love each other. I'll be back with announcements soon. ;-)



Love,
Ashley